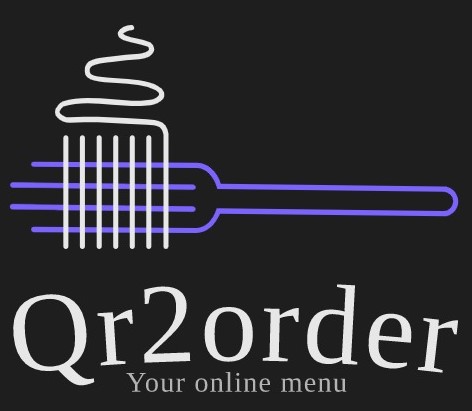 QR2ORDER A "touchless" future! Build your restaurant menu/catalog for free.
Craft dynamic menu with our tools for your restaurant / bistro / tratoria / osteria / pizzeria / taverna / teahouse / cafeteria / steakhouse / coffee shop / pub / bar etc. Say goodbye to physical menus and say hello to QR Codes!
It may seem dramatic but the World as we know it, it's not going to be the same, so we head to the New normal future. The Coronavirus disease is spreading across the entire globe, and one of the most affected industries is the food and drink business.
As restaurants reopen, changes are being made for keeping people safe. As we know, the virus spreads through touching, Disinfecting the menu is not enough, so the best solution is to have a touchless menu. This way, you do not protect only the clients but also your staff members as they are at risk of getting infected How can you do this? by adding one QR Code Menu on the table
Touchless menu
Offer your clients and staff members the touchless way to use the menu.
No more printing costs.
Not only that you save a lot of printing money, but it is also eco-friendly by reducing paper usage, and easy to edit whenever you change your prices or a dish.
Dynamic
You can edit, change the order, add photos in only a few minutes, You have control of your catalog 24/7 from wherever you are.
Always online
Any client can scan without using any app, only by pointing the camera to the QR Code. All the need is internet connection.
Multilanguage support
You can offer your menu in as many languages as you want!
Flexible
You can use your own domain, or you can use a subdomain provided by us!
Pricing
The basic menu plan will remain free forever!
Ads free
We will not display ads to your clients.
Customizable
You can customize your digital menu as you like. We add new layouts and styles all the time.
Modular
We are working to implement new features and provide a better user experience.
SAAS platform
Software as a service. We are using amazon cloud computing and you will not worry about hosting plans and maintenance.
Security
Our team of experts goes beyond industry standards to secure our platform. You just need to use a good password.
Pricing
QR Menu Basic
€ 0.00 Monthly
50 products
5 categories
Unlimited changes
Free SSL subdomain
Free custom domain no SSL
5$ / custom domain SSL
QR Menu Basic Plus
€ 2.99 Monthly
500 products
50 categories
Unlimited changes
Free SSL subdomain
Free custom domain no SSL
5$ / custom domain SSL
QR Menu Premium
€ 19.99 Monthly
500 products
50 categories
Unlimited changes
Free SSL subdomain
Free custom domain no SSL
5$ / custom domain SSL
Tables and orders management
Feedback tool
Product reviews
50 tables
10 staff
You're curious? Scan and see a few ideas of dynamic built customizations for your menu